WORKSHOPS
Descriptions of workshops, by number, are below.
Please choose the ones you want to attend and
note that on your registration form.

FRIDAY:
3:15 - 4:15
Mountain Dulcimer for the Anxious
and Intimidated

Basic Chords for Beginners
Introduction to Slide Dulcimer

The Sweet Sound
of Caring

26. Jeremy Seeger All
4. Lori Keddell B
11. Stephen Miklos N/I
20. CarolLynn Langley I/A
4:30 - 5:30
Strings and Things for Your Mountain Dulcimer
Rounds and Canons
Backup for Singing & Accompanying Other Instruments with Your Dulcimer
Spirituals for Mountain Dulcimer
Jamming for
Fun and Profit
27. George Haggerty Gen
6. Janita Baker B/N
12. Maddie MacNeil N/I
21. Nina Zanetti I/A
28. Gene Langley All
9:45 - 11:00
Beginner I –
The First Step
for Beginners

Differences Between DAA & DAD
Hammer-ons, Pull-offs and Slides
Music of the Shakers
Fingerpicking Ragtime and Blues for Four Equidistant Strings
1. Dallas Cline B
7. Maddie MacNeil N
13. Bonnie Leigh N/I
16. Nina Zanetti I
22. Janita Baker I/A
11:15-12:15
Beginner II –
So What's Next?

Play Expressively
Singing in Harmony
Putting More Oomph Into Your Playing
French Canadian Fiddle Tunes
2. Sandy Lafleur B
8. Beth Lassi N
29. Maddie MacNeil Gen
17. Sam Edelston I
24. Pam Weeks A
12:15 - 1:15
L
U
N
C
H
1:15 - 2:30
Strumming Through Strumming
How to Play Well With Others
Arranging Music for the Mountain Dulcimer
Are You in
the Mode You
Think You're In?

Hornpipes! What They Are & How to Play Them
5. Bonnie Leigh B/N
9. Beth L. & Nina Z. N
14. Janita Baker N/I
19. Dallas Cline I/A
23. Sandy Lafleur I/A
2:45 - 3:45
It's A-Maze-ing
Double Duty
Hymns

Music of the Civil War Era
Waltz Across New York
3 Strings, 2 voices
3. CarolLynn Langley B
10. Beth Lassi N
15. Pam Weeks N/I
18. Maddie MacNeil I
25. Sam Edelston A
WORKSHOP DESCRIPTIONS
What's Your Playing Level?
New Player – no previous dulcimer experience or musical
background necessary.
Beginner – has little experience with the dulcimer, but is familiar
with the basics.
Novice – has some experience with playing in more than one tuning ,
knows some basic strums and chords, can play easy melodies.
Intermediate – has experience playing in several different tunings,
familiar with chords and different right and left-hand techniques.
Advanced – is comfortable playing in a variety of styles and tunings;
the accomplished musician, ready for more challenging techniques and repertoire.
The levels above give a very basic description of what players at that level should know and be able to do. Workshops for each level will teach techniques, skills, and repertoire that will help you progress to the next level, building on the skills you already have.
Audio recorders are welcome in all workshops!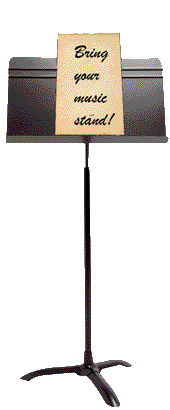 BEGINNER
1. Beginner I - The First Step for Beginners! Dallas Cline
You will hear yourself playing some simple tunes as you find the notes and learn how to read an easy tablature. We'll work together on a fun bump-diddy strum, and you will get help with a start on tuning into DAA.
2. Beginner II – So What's Next? Sandy Lafleur
We'll help you get comfortable with fretting, strumming and reading tablature as you learn some easy tunes you can have fun with. DAA
3. It's A-Maze-ing CarolLynn Langley
Attending your first festival and beginning to learn to play this "simple" and amazing instrument can feel as confusing as walking through a maze. Bring any puzzling questions that might have arisen during the course of the festival so that you can go home and successfully continue exploring your mountain dulcimer. You'll also have a few more tabs to take with you. DAA
4. Basic Chords for Beginners Lori Keddell
Learn simple chords for accompanying tunes in either DAA or DAD tuning, and strum along with some old favorites. DAA
BEGINNER / NOVICE
5. Strumming through Strumming Bonnie Leigh
Learn fun songs and three strum patterns, as well as little tips on how to keep your strumming smooth. DAA
6. Rounds and Canons Janita Baker
We'll play simple one note rounds, both well-known and obscure, and experience the beauty and harmony of playing with others. DAD Beginner on up
NOVICE
7. Differences between DAA and DAD Maddie MacNeil
Both DAA and DAD are good creative tunings, but there are advantages and "disadvantages" to them both. More important are the similarities and the ways in which the tunings can be used together. We'll explore. Come tuned in DAA
8. Play Expressively Beth Lassi
Come to this workshop and learn to play with expression - build on the skills you already possess. We will work on at least three different types of tunes and will focus on dynamics, tempo, and string attack. Listening to yourself and focusing on expressiveness will pay big dividends! DAD
9. How to Play Well with Others Beth Lassi and Nina Zanetti
We'll play some beautiful duet arrangements in a variety of musical styles and discuss some techniques that are helpful for playing with another person. The goal is to create a sound that is better than either of you alone! We'll discuss the importance of communication including the use of nonverbal cues so that you start and end at the same time and stay together in between. We'll talk about how duets might be structured: lead and backup or fully tabbed duets with equal parts. Finally, we'll touch on mixing and matching styles and arranging for your duet or small group. There will also be time to practice some of these techniques. DAD
10. Double Duty Hymns Beth Lassi
Have you noticed that some hymns can double as Christmas songs or are sung at Thanksgiving using different words than throughout the rest of the year? We'll work on at least three hymns that are often - but not always - sung during the holidays. Come to this workshop and get two for the price of one! DAD

NOVICE / INTERMEDIATE
11. Introduction to Slide Dulcimer Stephen Miklos
Sliding with the dulcimer is easy – in DAD! You can play country and blues, even Hawaiian. We'll work through a set of exercises and tunes that will sound great. DAD
12. Backup for Singing and Accompanying Other Instruments With Your Dulcimer Maddie MacNeil
Not only will we explore chords - major and minor and a couple of "odd" ones, we'll see how melody notes can make backup playing more interesting when you accompany yourself or other players. DAD Novice and up
13. Hammer-ons, Pull-offs and Slides Bonnie Leigh
Learn the special affects that can be done to a song to add feeling and give it a different sound. DAD
14. Arranging Music for Mountain Dulcimer Janita Baker
This workshop will show you how to take a piece of music and easily convert it into tablature. If you can count to 8 you can do this! Bring a pencil with an eraser. DAD Novice on up
15. Music of the Civil War Era Pam Weeks
We will explore the popular songs and tunes of the day, ranging from fiddle tunes to sentimental favorites and patriotic melodies. DGD
INTERMEDIATE
16. Music of the Shakers Nina Zanetti
The Shakers produced a huge body of sacred music, including lively dance tunes and ethereal meditations. "Simple Gifts" is the most well-known example, but there are many more tunes, all well-suited to playing on the dulcimer. DAD (possibly some DGD)
17. Putting More Oomph into Your Playing Sam Edelston
Just as there's a big difference between telling someone I love you and showing them that you do, there's an equally big difference between just playing a tune and playing it with power. Well use dynamics, tension, synco…pation, and imagination, to crank it up to the next level. DAD
18. Waltz across New York Maddie MacNeil
Tunes in 3/4 time are nice to play; we can never have too many 3/4ers. We'll add at least two more to your repertoire. DAD
INTERMEDIATE/ADVANCED
19. Are You in the Mode You Think You're In? Dallas Cline
Do you really understand the modes? This workshop will help. We will find the relationships of the seven modes and how to tune into each one. There will be handouts for every mode, so you will know, for instance, if you're in the Dorian or really in the Aeolian. (An easy mistake.) Four tunes will help to demonstrate the differences. Come in DAD. Intermediate - Advanced ( But all are welcome)
20. The Sweet Sound of Caring CarolLynn Langley
The gentle sound of the mountain dulcimer makes it the perfect instrument to provide music from a baby's lullaby, to a tune which brings back memories to the elderly or the sound of comfort during an illness. This workshop encompasses each of these areas with special emphasis on taking your dulcimer, alone or in the company of another musician or two, to nursing homes and hospitals for the purpose of bringing solace and a bit of sunshine into the lives of those in need. Tab for appropriate songs included, as well as suggestions for others. DAD
21. Spirituals for Mountain Dulcimer Nina Zanetti
These beautiful songs with their rich harmonies and deep spirituality translate well to mountain dulcimer. Learn to play some familiar and not-so-familiar spirituals, while we explore some of the harmonies and rhythms of this wonderful music. DAD
22. Fingerpicking Ragtime and Blues for Four Equidistant Strings Janita Baker
We'll work on fingerpicking several pieces of classical ragtime, country and delta blues songs arranged for four equidistant string. D A Bb D
23. Hornpipes! What they are and how to play them Sandy Lafleur
Hornpipes are often tunes with an identity crisis as they are often played as reels and as such lose their jaunty, dotted rhythm. This workshop will utilize hammer ons, pull offs and slides. DAD

ADVANCED
24. French-Canadian fiddle tunes Pam Weeks
This repertoire workshop will center on how to use your flatpick and some left-hand "tricks" to fit all those notes in! Come tuned to DGD
25. 3 Strings, 2 Voices Sam Edelston
Getting melody and separate accompaniment out of your dulcimer at the same time. DAD

GENERAL / ALL LEVELS
26. Mountain Dulcimer for the Anxious and Intimidated Jeremy Seeger
After looking at obstacles to playing, discussion will focus on ways of overcoming barriers and simple confidence-building ways of playing. We will end working on simple tunes. DAA All levels
27. Of Strings and Things for Your Mountain Dulcimer George Haggerty
George will show you the proper way to replace & tune strings, touch up scratches & nicks, how to choose the best polish & wax, and how to replace or repair a tuning peg. Bring your questions. General
28. Jamming for Fun & Profit Gene Langley
The riches we earn from jamming are not monetary, but are many. First of all, we have fun with other musicians while learning new tunes and we improve our "ear" while learning to hear and anticipate chord changes and progressions. We learn to play with a group, follow the leader, and even become the leader if we choose. Come jam with us as the basics are planted, and you'll find you'll reap a profitable harvest. General – all instruments
29. Singing in Harmony Maddie MacNeil
Bring your voices to this workshop and sing rounds and other songs in harmony. Everyone is welcome, including those who might feel a little insecure when singing in a group!
© 2008, 2009 by Dulcimer Association of Albany