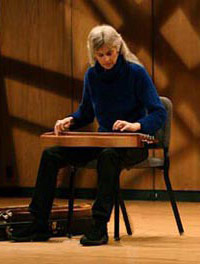 Janita Baker
www.bluelioninstruments.com/jb.html
Janita Baker has been playing mountain dulcimer for over 30 years. Through her recordings, books and appearances at festivals and workshops across the United States she has become well-known for both her teaching skills and Blue Lion Dulcimers, which she builds with her husband Robert. To date, they have produced over 4000 mountain dulcimers. The instruments are noted for their clarity, balance, and quality of craftsmanship, and are played by many of the top performers in the country. As a solo performer on the mountain dulcimer, Janita presents her audiences with a wide range of musical experiences including classical, traditional, delta and country blues, ragtime, swing and original instrumental pieces. A gifted story teller, Janita delights her listeners with a warm and personal sharing of her music and introduces to her audience and her students the incredible complexity, variety and beauty of the mountain dulcimer.

Madeline MacNeil
www.madelinemacneil.com/home/
Arts centers and universities throughout the United States have presented Madeline MacNeil in concert. Across the Atlantic, she has performed at the O'Carolan Festival in Keadue, County Roscommon, Ireland; the Glasgow Festival of the Arts in Scotland; and for the Nonesuch Dulcimer Gathering in East Norton, Leicestershire, England. For several years she was a touring artist under the sponsorship of the Virginia Commission for the Arts. In 2005 Madeline was recognized as a Content Consultant for an exhibit of dulcimers and their scheitholt ancestors at the Museum of the Shenandoah Valley in Winchester, Virginia. She performed background vocals for a national Public Television two-part documentary film, To Our Credit. In 2006 Muhammad Yunus and the Grameen Bank, featured in To Our Credit, won the Nobel Peace Prize for their efforts in creating economic and social development to help impoverished countries gain democracy and human rights. She is a best-selling author of mountain and hammered dulcimer books for Mel Bay Publications and has recorded numerous CDs through the years.
Dallas Cline has been in the folk music scene since the sixties, teaching and performing with guitar, autoharp and mountain dulcimer. She had her own TV show in Danbury, CT for several years, ran coffee house concerts for 20 years, and in the seventies began teaching at festivals throughout New England. She has ten dulcimer books to her credit (with three more to come ) and one on jug band instruments published by Oak. Homemade Instruments for Children (also Music Sales ) has recently been named a Classic. Now in Vermont, she is making lots of music with a neighborhood dulcimer group.
Sam Edelston is a product of the "let's-see-what-else-this-baby-can-do" school of dulcimer -- which has led him into areas as diverse as doo-wops, hard rock, marching band music, opera, and even traditional fiddle tunes. He is chair of the Nutmeg Dulcimer Festival, which is held every fall in Connecticut. www.NutmegDulcimer.com
George Haggerty is an accomplished dulcimer builder, teacher, and player. His enthusiasm for this versatile instrument is apparent in his workshops which build a solid foundation for even the most inexperienced player. He and his wife, Mary, are sponsors of their annual festival in Vermont, August Dulcimer Daze, now in its eighteenth year. www.AugustDulcimerDaze.com
Lori Keddell has been playing dulcimer for more than 23 years, and has taught classes and workshops for children and adults in New York, Vermont, Pennsylvania and Massachusetts. She has been coordinator of the MDMF since our first festival in 1989, and has been on the staff of the Cranberry Dulcimer Gathering in Binghamton, NY since 1987. With George Haggerty, she has taught a week long Dulcimer Elderhostel class in Vermont for the past 6 years. She has published 3 books of dulcimer music: A Treasury of Christmas Music for the Mountain Dulcimer, A Mountain Dulcimer Potpourri – 33 Songs in DAA, and Night Songs and Lullabies for the Mountain Dulcimer.
Sandy Lafleur of Amherst, NH has been playing Appalachian dulcimer since 1994. She teaches privately at her home, at the Adult Ed. Program in Merrimack, NH and at festivals throughout NE. Her involvement in fife & drum corps, Contra dance and Scottish & English Country Dance, Sacred Harp singing and playing with the Strathspey & Reel Society of NH Scottish orchestra has provided her with a boundless supply of tunes and musical styles. Sandy's book "Heart's Delight" contains an eclectic mix of 40 tunes arranged for dulcimer and includes a CD with TablEdit software and all the tunes in .tef format for Windows or Macintosh. www.WanderingDulcimer.com
CarolLynn & Gene Langley have been performing on mountain dulcimer and autoharp for about ten years and also enjoy teaching both children and adults at festivals, schools, and other venues from VT to NC. Look for their CD, "Speak a Little Louder, Please." The title becomes more appropriate as the years go by! www.QuietCreekMusic.com
Beth Lassi learned to play several instruments before discovering the dulcimer but none captured her interest or her heart the way this instrument has. She has performed in a variety of settings both as a soloist and in small groups and has taught at festivals throughout the northeast. Beth, along with Nina Zanetti, performs on the compilation CD, Masters of the Mountain Dulcimer Play Music For Christmas. She is also the mountain dulcimer coordinator of the Cranberry Dulcimer and Autoharp Gathering held in Binghamton every summer.
Bonnie Leigh, CMP, a Certified Music Practitioner and performer from New Jersey, actively performs and teaches her gentle style of playing with the dulcimer across the northeast coast. Her easy manner makes learning to play fun. Bonnie has been giving lessons, teaching at festivals and performing since 1991. Bonnie's original songs of life and family can be found on her 3 recordings and 3 songbooks to accompany the recordings, all in dulcimer tab. www.BonnieLeigh.com
Steve Miklos has been making dulcimers and dulcimer music for ten years or so, and loves to surprise people with his unusual soundholes and unusual ways of playing. He's the author of Slide Dulcimer, an instruction booklet. www.CarrotCreek.com
Jeremy Seeger has been playing mountain dulcimer for 40 years and has been fascinated by how his playing has changed with the changes in his instruments over time. Music never came easy for him and in his workshop he shares his experience and love for the dulcimer and music. www.JeremySeeger.com
Pam Weeks sings and plays mountain dulcimer, fiddle, and other instruments with three bands - Jimmyjo & the Jumbol'ayauhs (Cajun dance band), Ti' Acadie (folk trio), and Scrod Pudding (contradance band) and
teaches privately at her home in Bowdoin, ME, as well as at the Nezinscot Farm Store in Turner, ME.
www.PamWeeks.com
Nina Zanetti comes to dulcimer from a diverse musical background, including choral music, violin, viola, piano, and shape note singing. She has taught at dulcimer festivals in PA, VT, CT, and NY; has produced a tablature book called The Softer Side of Dulcimer; and has also co-authored (with Beth Lassi) two books of duet arrangements. She and Beth are featured in Masters of the Mountain Dulcimer Play Music for Christmas, and Nina has also produced a CD of solos and duets, The Sum of the Parts, with Bill Collins. Most recently, Nina became the 2008 National Mountain Dulcimer Champion at the Walnut Valley Festival in Winfield, KS. www.NinaZanetti.com