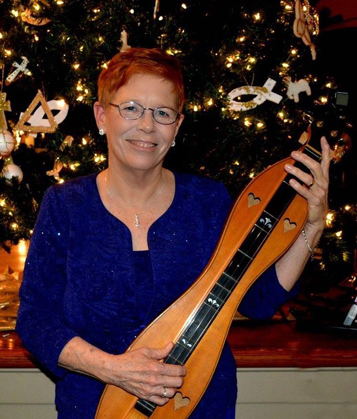 Linda Brockinton
After playing dulcimer on her own for two years, Linda was introduced to the world of dulcimer festivals. She started out strumming fiddle tunes and for eight years had a band called The Cotton Picking Dulcimer Pickers, which played at local venues. After she saw someone finger picking, she became very interested in that style, as it had the sounds that were missing to her ear. So the band changed its name to Heartstrings, and she began to write multi-part arrangements for all the instruments.
After sampling all styles, she is most taken with the softer side of dulcimer and likes to finger pick the majority of the time. She loves the old time hymns and Celtic music brought to the Appalachian Mountains by the settlers from Scotland and Ireland, and also enjoys playing good old fiddle tunes, waltzes and old time tunes.
She teaches all styles of dulcimer playing as well as flute at home in her studio. She has also studied Music Therapy, and shares what she has learned in 'Music and the Elderly' and 'Music and Your Health' classes and lectures with small groups. She feels that music is a real healing art and that we don't really know yet just how powerful it is.
Linda has written nine dulcimer tab books, and has two more books under way: one is tunes of her own composition and the other is a new beginner finger picking book. Her nine CDs include three for relaxation and healing. Her biggest love is sharing the dulcimer with new players. In this way she hopes to keep its sweet sound alive.