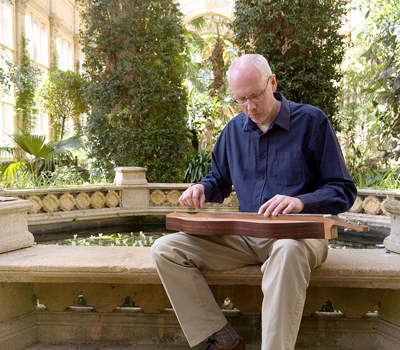 Dan Evans
On the dulcimer, Dan plays almost exclusively finger-style, and his favourite tuning is Ionian (DAA), although he also uses Dorian (DAG) and Bagpipe (AAA) among other tunings. He has developed a method of accompanying songs using chord inversions and another method of arranging song melodies as instrumental airs. Put together, these two methods create comprehensive accompaniments to folk songs. More recently Dan has developed an approach to playing minimalist music on the dulcimer, using fast picking patterns and he has composed a number of atmospheric pieces in this new style. Incredibly, Dan's dulcimers only have 3 strings and a diatonic scale with no half frets !
Dan's finger-style guitar playing is highly stylish and innovative, using Open C tuning (CGCGCE) almost exclusively and tuning the instrument to his own, natural temperament. He then blends the use of jazz chords with medieval modes and harmonies as well as subtle rhythmic variations to create a beautiful and unique folk guitar sound.
On both instruments Dan deploys subtle, intelligent and highly musical programmable electronic effects to enhance his unique playing and to create rich, resonant and atmospheric sounds. He does this more so on guitar than dulcimer, where he is currently using state-of-the-art spatial effects from the leading supplier (Boss), occasionally layering sounds and so creating duets on one instrument.
Dan has a fine baritone voice and presents a repertoire of folk music and song from the British Isles and beyond, a few original compositions and the odd classic to round off a set nicely. All are presented with considerable classical skill and a spoonful of English humour.