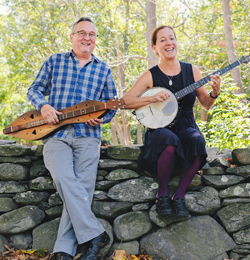 Atwater & Donnelly
From Warren, Rhode Island, Aubrey Atwater and Elwood Donnelly are delightful, energetic performers and teachers, presenting enthralling programs of traditional American and Celtic folk music and dance. Award winners, Aubrey and Elwood are in great demand on the American folk music circuit and have performed and taught in over thirty-five states as well as England and Ireland. They blend unusual harmonies and play and teach mountain dulcimer, old-time banjo, guitar, tin whistle, mandolin, harmonica, bodhran, bones, spoons, limberjacks, and other surprises, as well as clogging, French Canadian foot percussion, tap, and contra dancing.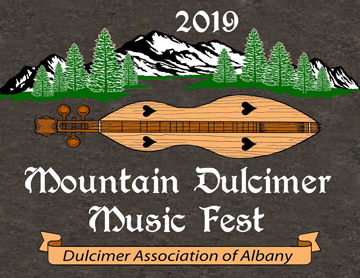 March 1st , 2nd, and 3rd, 2019
Calvary United Methodist Church
15 Ridge Place, Latham, NY 12110
Registration Form
Festival Timeline
Friday and Sunday Schedules
Saturday Schedule
Workshop Descriptions
Workshop Leaders
Details and Arrangements
Map & Directions
Motel Info
Meal Info
T-Shirts & Tote Bag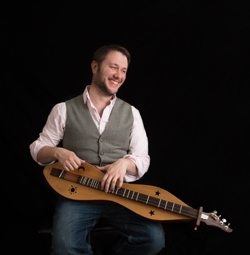 Aaron O'Rourke
began teaching and performing on mountain dulcimer at the age of 16. In a short period of time, Aaron became one of the headlining names at dulcimer camps and traditional music events across the US including Steve Kaufman's Acoustic Kamp, WCU's Dulcimer Week, Augusta Heritage Center's Traditional Music Week, Kentucky Music Week, The Florida Folk Festival and more.
In 2010, Aaron won the National Mountain Dulcimer Competition held at the Walnut Valley Festival in Winfield, KS. Aaron is also a past winner in the Florida Old-time music competition and the Southeastern Regional Dulcimer Contest in Mountain View, AR.